Portfolio
A tshirt quilt with pictures!
A wedding wall hanging!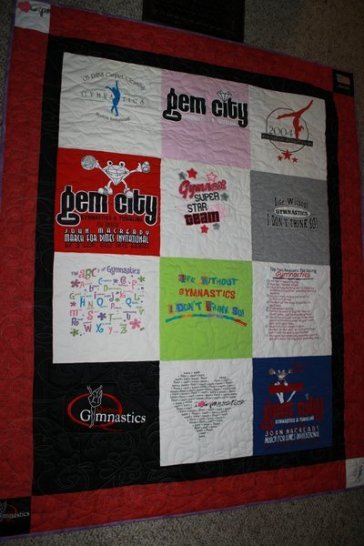 This is a gymnastics t-shirt quilt!
This is a cheerleading quilt!
A king size tshirt quilt!
A custom quilt at show!
My first attempt at Shadow Trapunto! (Top)
Redworked Trapunto back.
This was a wedding quilt! This woman embroidered each block to represent something about the couple and I custom quilted it.
This is a close up of some of the custom quilting on the back of the wedding quilt.
This is one of two Crazy Quilts from the 60s era. What fabulous pieces of history! I was delighted to have been chosen to finish these!
Here is a picture of the back to show quilting detail!
A custom Halloween quilt! This is really detailed and the piecing artist was so talented!
What My Customers Are Saying:
Wonderful, wonderful, wonderful. I could not be more pleased with these quilts, and they arrived quickly considering how huge my order was. (I ordered one for every man in my family!). This talented lady was a pleasure to deal with in every way. =)
Very happy with quality. Wish you could teach me how to quilt!
PERFECT THANK YOU!!!!!
Fast shipping! So beautiful - thank you!!
Your bag is gorgeous. I haven't stopped using it since it arrived. Thank you.